It's a long road…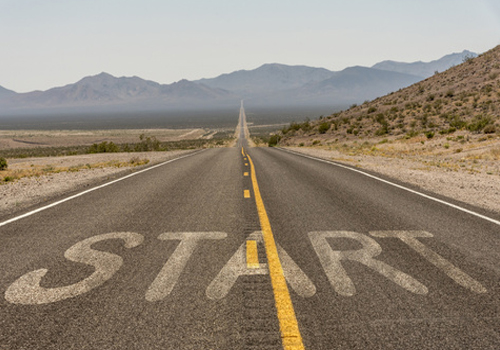 Every Journey starts with the first step.
Yes….! I know you have heard that a million times already, but we all know it's true.

If you are new to the world of fitness and exercise then this can be a daunting task for some people. Plus that first step can be much bigger for some. You could say it was a little different for me, Id spent most of my adult life doing some form of training and physical activity during my career as a member of the Armed Forces. However getting back into it after an almost 10 year break of regular exercise was hard.
It was indeed a long road
. I remember my first long road run, my knees just vibrated with every step, as my feet pounded the pavement. At the age of 49 I thought this is the end for me, my running days are over. After finishing what was only 5 miles I packed my knees in ice and sat there thinking this is a bad idea. My goal of running a marathon at the age of 50 was not going to be a walk in the park. I'd previously registered and secured a place in the Great North Run, and also entered the ballot for the London Marathon 2010. The Great North Run was now just 15 weeks away and at the time I wasn't guaranteed a place in the London Marathon. So I also registered and secured a place in the Edinburg Marathon for May 2015, just in case I was not successful in the London ballot.
I wasn't going to do all this training for nothing.
My philosophy was that if I register for an event then I am committed to continue with my training, I was determined to be FAST at 50.
A Grand Day Out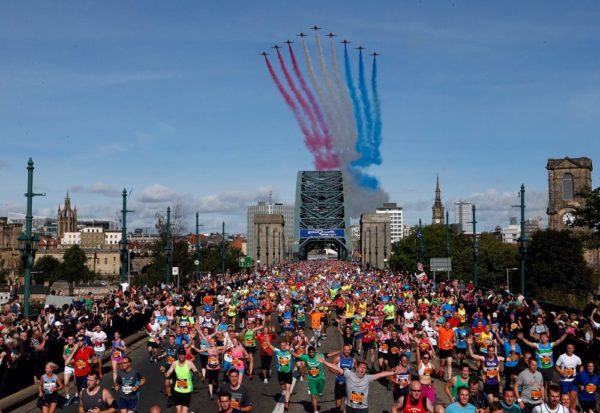 The Great North Run would be my first official half marathon event, not to mention a good training run for the full 26.2 London marathon, scheduled for April the following year. I had not run this distance for over 30 years. When the day came I was simply overcome with the excitement of the occasion, it was truly a grand day out.
I was swept along with the euphoria of this magical event. I'd travelled to Durham the day before and stayed in the halls of residence at one of the cities universities' as part of a travel and accommodation package I had booked. That evening I met with many people who had not done this event before, it's fair to say we were all a little anxious. Like many who have sat there on Sunday morning watching the event unfold each year from the comfort of our living rooms, thinking to ourselves one day I'm going to do that, well I was finally there. Listening to the stories of inspiration first hand as we asked each other why are we doing this? Although I was effectively running to raise money for Breast Cancer, truth be known I was actually running for myself. I had silently suffered with depression for a number of years, something I later documented in my book published in November 2015 titled "The Best Loser".
Physical exercise was something I used to suppress the dark thoughts inside my head, it's well documented that regular exercise can boost your mood if you have depression. While sat at that table the night before the run I didn't reveal the real reason I was running. I think I said it was just something I always wanted to do but never really had the chance before. Although I told myself that I was doing this for my mum and my stepsister who had died earlier that year from breast cancer aged just 53, deep down I was doing this for me. So when I crossed the line at an official time of 2 hrs 10 min, I was without doubt pleased with myself, I was proud to be running and raising money for such a worthy cause. Nethertheless I did feel good about myself. A month later I received my distinctive red coloured Virgin London Marathon Magazine, with the word CONGRATULATIONS on the front cover. I had my place on the start line of the 2010 Virgin London Marathon.
On the 18th of January 2010 I'd reached my half century, I was indeed Fit and Still Training at 50 (FAST@50)
Share your friends